Motorhome Conversions :: Bongo Camper Conversions


Main Showroom Page :: Mazda Bongo MPVs


Sports & Performance Cars Page
- Toyota Alphard including Electric-Hybrid campers
In this section all prices Include:
BIMTA Mileage Certificate for your reassurance and for your re-sale value
12 Months Mot
Assured hand picked and selected import, we do not buy Uk, as we are one of the largest "pure importers" in the country
Full "no quibble" warranty, when we sell the car nothing is excluded in warranty period, we offer our own warranty not 3rd party paper systems
Extensive support after warranty, ie reduced labour rates and parts pricing
Extensive parts support tracking system, either used or new
Valet
Service
Delivery can be arranged for a small fee
Tri-Fuel, incredible pence per miles cost!

These fabulous Toyota Alphards Hybrids can now be powered by electric battery power, petrol and LPG.
Around towns and cities, they run on battery, then for medium and long touring LPG takes over at huge savings on fuel, and they can cruise at high speed on LPG. If no LPG available, just pop them back onto petrol and battery power.
The pence per miles cost using all 3 fuel sources can be so low it can be equivalent to almost 70-80 mpg which for a large and powerful camper is an amazing feat. Please note there is no guarantee on these figures but its commonly reported as we always ask owners to inform us.
Toyota Alphard Hybrids are in big demand worldwide now and in little supply for high level and low mileage ones with mileage certificates, so please ask weeks and months ahead to secure one.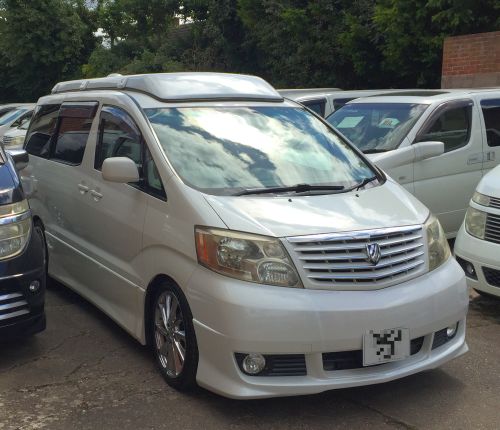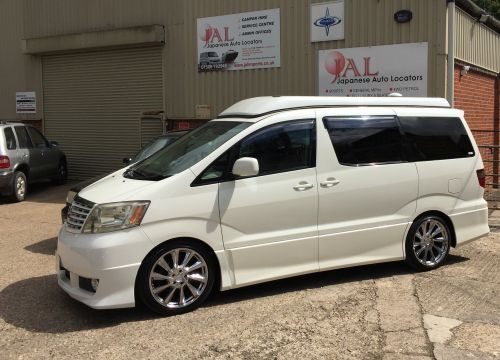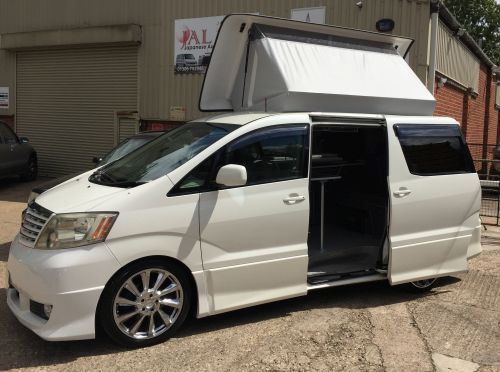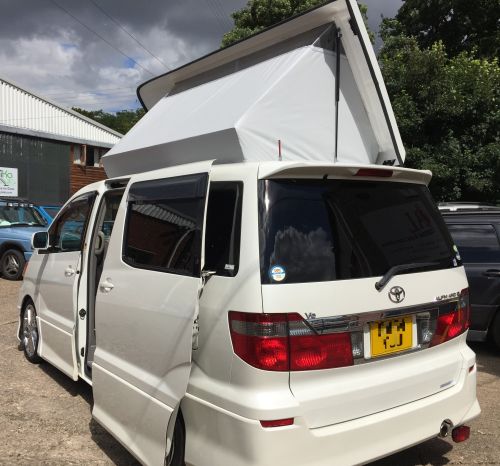 NEW-Luxury High Top Maximum storage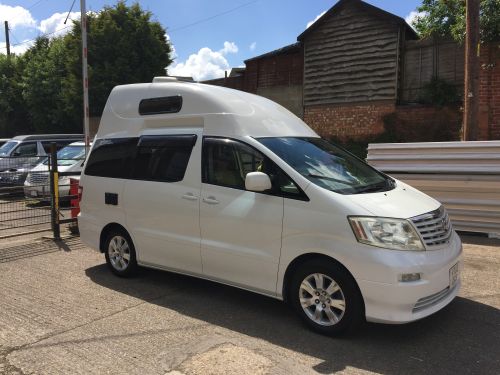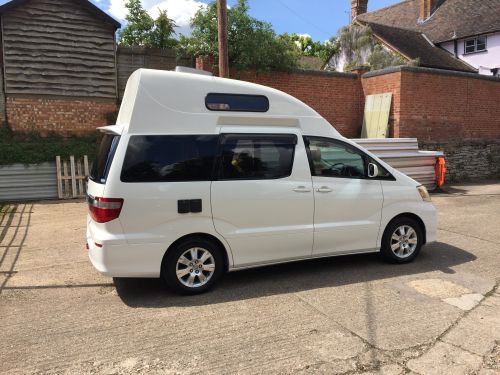 NEW-Super LUXURY 42 inch width cushion bed, FAST TRACK option available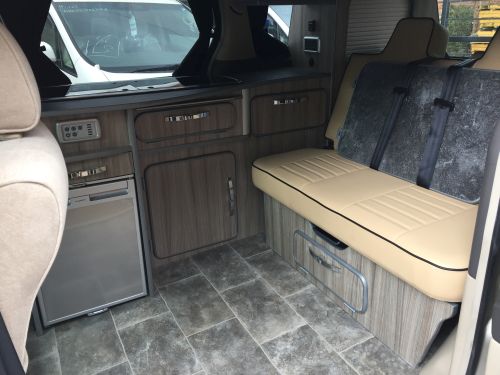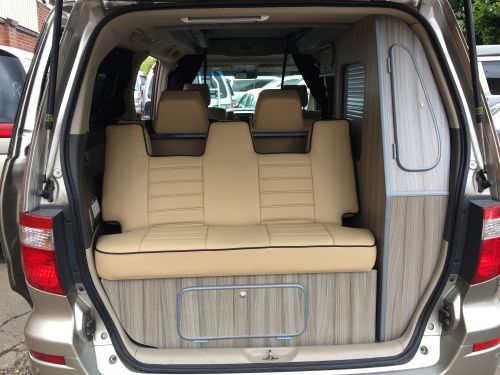 NEW-42 inch width flat side Alphard Conversion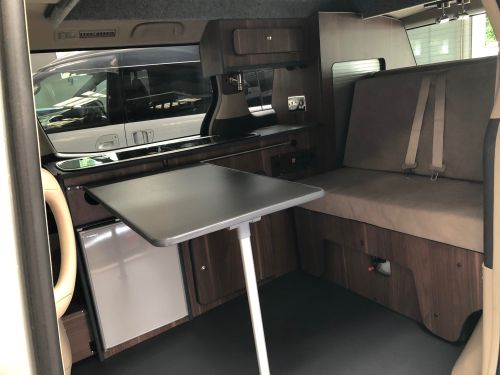 JAL are now pioneering the SUPER ECO CAMPERS, offering both LPG and Hybrid usage on the same vehicle, with truly astonishing MPG results. Hybrid ticks around towns and cities and the powerful LPG system kicks in for motorway or cruising use. Coupled with 4wd, these beautiful campers can enjoy guilt free trailing through forests, mountains or beautiful scenery.

SERVICE CENTRES, we now have specialist machinery in our Worcester workshops which can code read these fabulous HYBRIDS and with quick part tracking we can look after our customers nationwide.

We can also offer now a HYBRID battery regeneration service and trade prices on brand new ones so we can work for the future of our customers and indeed the health of the planet.
Latest NEWS
The roof options now are:
Industry standard roof - This roof is very popular, slim-line and offers a large walkway and sleeping facilities.
Or
JAL own exclusive "side-lifting" elevating roof - This offers far greater head room, walking space and most importantly "air space".
Toyota Alphard Camper Conversions
Being the leading Japan Importer and Builder in the UK with between 90-190 imports on 2 sites we are backing the Alphard to the full, so the following conversions are now available:
Rear deluxe kitchen (removable or static)
Mid Camper- 7 seats
Standard bed Camper in 4 and 6 seat combinations
Large bed Camper in 4 and 6 seat combinations
And BESPOKE build service to customer design
JAL are now in production with the fabulous HYBRID Toyota Alphard
This is going to be a market winner at the top end as the JAL Alphard will combine the incredible Toyota base unit but with a far larger roof than the competition and a wider range of camper beds and designs.
Base units are now on way so please drop us an email and will send you the stock lists. Thank You.

Why Vohringer ?
The woods used in your camper conversion are very important and Vohringer is the benchmark of high standards and indeed the industry base mark.
We see many converters start with Vohringer then move to cheaper woods that look the same in an effort to save money.
Vohringer is super light weight and very strong but most of all it has a very strong water resistance, unlike cheaper boards that soak up water.
More importantly Vohringer will stand the test of time and not delaminate quickly like some.
In 2016 we bought back for resale a conversion we completed 10 years ago and the wood was in the same beautiful condition we supplied. Cheaper boards we have seen with our competitors flake in 2-3 years.
We have now expanded the range we do and have included 16 Vohringer colours as well as our enormous choice of floors and upholstery.
If you have conversion completed elsewhere please ask the conversion company to state in writing they are indeed installing genuine Vohringer woods.
Thank You
FAST TRACK conversion SUPER LUXURY format
JAL is proud to announce that we can now arrange this SUPER LUXURY conversion in the largest stock of Alphards in the UK and have the more popular MUSHROOM ROOF installed in weeks.
This conversion is available in:
20 selections of Vohringer woods
48 plus floors
HUNDREDS of upholstery combinations
Simply email us for the latest stock lists as we only put a few on website and you could be on the road in a market leading Full camper in weeks.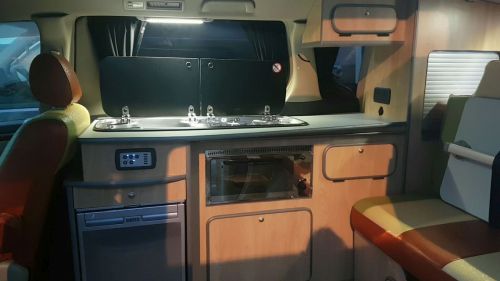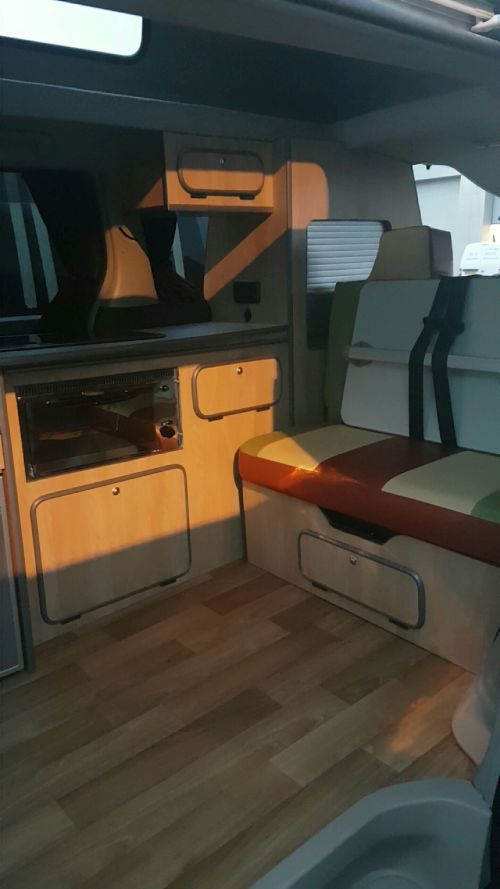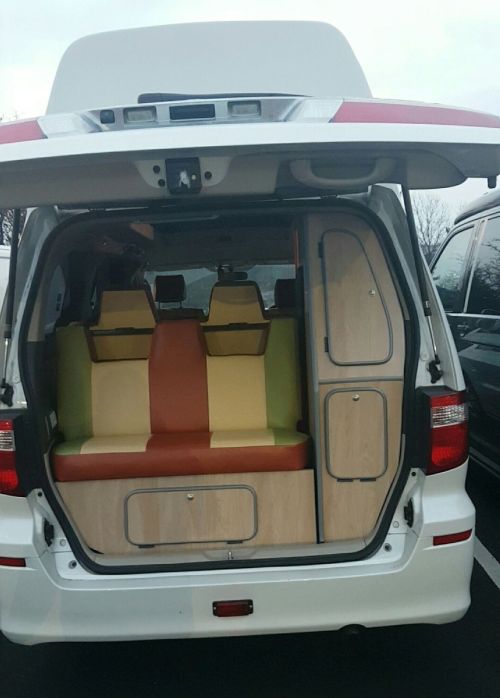 Hybrid vs LPG
There has been a large jump in interest for the fabulous Toyota Alphard HYBRID in 2017 , however the Alphard on LPG can be as good and in many circumstances better. Usage is the main factor, if your Alphard is going to be used primarily as a city or town vehicle, then the HYBRID will win hands down. However motorway usage or roads over 50mph the LPG will gain substantially and especially on long journeys. LPG has no invasion of space as all underneath. LPG is very big news and has been with us for many many years. LPG must be fitted via LPGA fitters, have flash-lube and large tanks. Prices for systems will vary considerably, after years of experience we only fit top level systems as parts and support is valued.
Currently Available Stock (click title or image for details):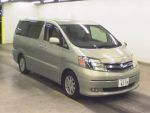 Toyota HYBRID-Alphard-Year-2006-Only 40,000 miles, ideal Camper convert base, £12499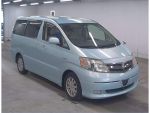 Toyota HYBRID-Alphard-Year-2005-Only 56,000 miles, ideal Camper convert base, £11999-stock-a411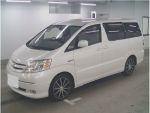 Toyota HYBRID-Alphard-Year-2004-Only 38,000 miles, ideal Camper convert base, £12999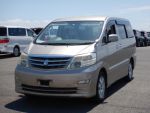 Toyota Alphard Year 2006-Only 18,000 Miles-stock a-366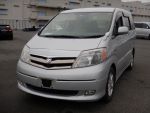 Toyota HYBRID-Alphard-Year-2006-Only 33,000 miles, ideal Camper convert base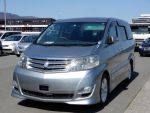 Toyota Year 2008-Alphard-Only 41,000 Miles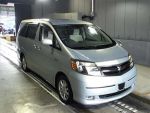 Toyota HYBRID-Alphard-Year-2005-Only 36,000 miles, ideal Camper convert base, £11999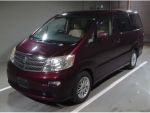 Toyota Alphard-Only 22,000 Miles-Year 2004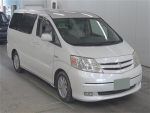 Toyota HYBRID Alphard-Only 39,000 Miles-Year 2004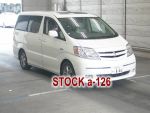 Toyota HYBRID Alphard-Only 17,000 Miles-Year 2003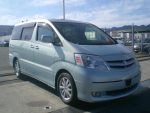 Toyota HYBRID Alphard-Only 53,000 Miles-Year 2003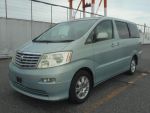 Toyota Alphard-Only 52,000 miles, ideal Camper convert base, £8999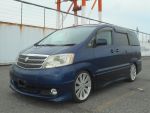 Toyota Alphard-Only 55,000 miles, ideal Camper convert base, £9999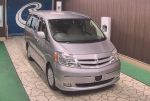 Toyota HYBRID Alphard-Only 22,000 Miles-Year 2004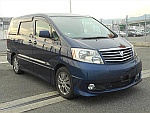 Toyota Alphard-Only 54,000 miles, ideal Camper convert base, £9999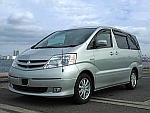 *SOLD*Toyota HYBRID Alphard-Year 2004, 50k Warranted miles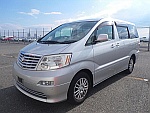 Toyota Alphard-Only 46,0000 miles, ideal Camper convert base, £8999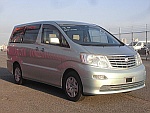 * SOLD * Toyota Alphard-Only 42,0000 miles, ideal Camper convert base, £7999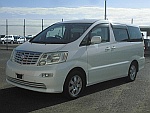 Toyota Alphard-Only 36,0000 miles, ideal Camper convert base, £8999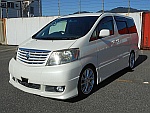 Toyota Alphard-Only 57,0000 miles, ideal Camper convert base, £6999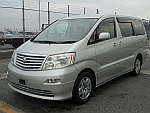 Toyota Alphard-Only 34,0000 miles, ideal Camper convert base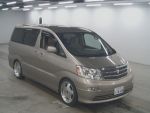 * SOLD * Toyota Alphard-Only 37,0000 miles, ideal Camper convert base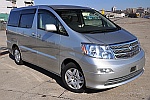 Toyota Alphard-Year 2002, 58k Warranted miles
Japanese Auto Locators
Telephone :: 01386 792946