In this section all prices Include:
BIMTA Mileage Certificate for your reassurance and for your re-sale value
12 Months Mot
Assured hand picked and selected import, we do not buy Uk, as we are one of the largest "pure importers" in the country
Full "no quibble" warranty, when we sell the car nothing is excluded in warranty period, we offer our own warranty not 3rd party paper systems
Extensive support after warranty, ie reduced labour rates and parts pricing
Extensive parts support tracking system, either used or new
Valet
Service
Delivery can be arranged for a small fee

Why Vohringer ?
The woods used in your camper conversion are very important and Vohringer is the benchmark of high standards and indeed the industry base mark.
We see many converters start with Vohringer then move to cheaper woods that look the same in an effort to save money.
Vohringer is super light weight and very strong but most of all it has a very strong water resistance, unlike cheaper boards that soak up water.
More importantly Vohringer will stand the test of time and not delaminate quickly like some.
In 2016 we bought back for resale a conversion we completed 10 years ago and the wood was in the same beautiful condition we supplied. Cheaper boards we have seen with our competitors flake in 2-3 years.
We have now expanded the range we do and have included 16 Vohringer colours as well as our enormous choice of floors and upholstery.
If you have conversion completed elsewhere please ask the conversion company to state in writing they are indeed installing genuine Vohringer woods.
Thank You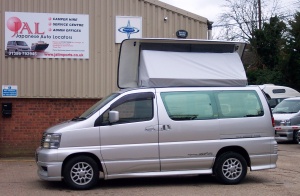 JAL proudly announces the NEW MUSHROOM ROOFED Nissan Elgrand.

Walk-through Seats.
Swivel front seats also available.
Dual 2wd and 4wd available.
Huge walkway roof.
Both Diesel and Petrol available in 4wd. Huge stocks, here and on water.
The Camper to beat for 2012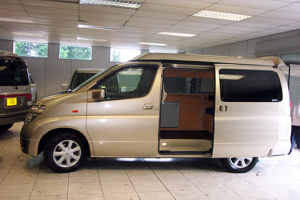 Year 2002 Nissan Elgrand with the large interior elevating roof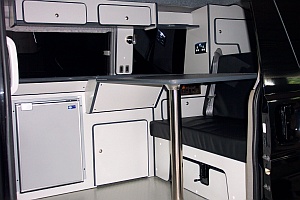 Latest 42 inch bed in Elgrand with a side Fridge-Freezer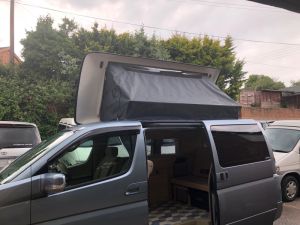 Elgrand SUPER HEADROOM mushroom roof-gen 4