Toyota Estima and Lucida Showroom
Including Electric-Hybrid campers
Currently Available Stock Examples (click title or image for details):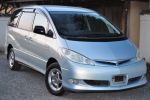 Toyota Estima HYBRID-only 36,000 Miles-Year 2003 HYBRID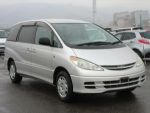 Toyota Lucida-Fresh import and low 51,000 Miles, Japan Grade 4 with SUPER HEADROOM MUSHROOM ROOF £8999 or Full Camper £12999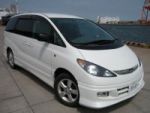 Toyota Estima White aerokit Year 2002, eco petrol ideal LPG with SUPER HEADROOM MUSHROOM ROOF £9999 or Full Camper £13999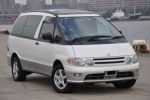 SOLDToyota Lucida X LUXURY and only 45,000 Miles, Year 1999
Older Examples:

Toytota Lucida 1996

Toyota Lucida Estima G Luxury
The fabulous Toyota Estima and Lucida have been huge sellers over the years and many people have turned them into light campers.

JAL has now turned its full attention to these super base vehicles and has designed and built the SUPER HEADROOM MUSHROOM ROOF, specifically for them.

Now headroom has been obtained and a variety of bed sizes and kitchens can be installed.

2.4 petrol engines give superb power and legendary Toyota reliability and of course are very popular for state of the art LPG systems.

These are ideal for single people or couples.
In this section all prices Include:
BIMTA Mileage Certificate for your reassurance and for your re-sale value
12 Months Mot
Assured hand picked and selected import, we do not buy Uk, as we are one of the largest "pure importers" in the country
Full "no quibble" warranty, when we sell the car nothing is excluded in warranty period, we offer our own warranty not 3rd party paper systems
Extensive support after warranty, ie reduced labour rates and parts pricing
Extensive parts support tracking system, either used or new
Valet
Service
Delivery can be arranged for a small fee

Why Vohringer ?
The woods used in your camper conversion are very important and Vohringer is the benchmark of high standards and indeed the industry base mark.
We see many converters start with Vohringer then move to cheaper woods that look the same in an effort to save money.
Vohringer is super light weight and very strong but most of all it has a very strong water resistance, unlike cheaper boards that soak up water.
More importantly Vohringer will stand the test of time and not delaminate quickly like some.
In 2016 we bought back for resale a conversion we completed 10 years ago and the wood was in the same beautiful condition we supplied. Cheaper boards we have seen with our competitors flake in 2-3 years.
We have now expanded the range we do and have included 16 Vohringer colours as well as our enormous choice of floors and upholstery.
If you have conversion completed elsewhere please ask the conversion company to state in writing they are indeed installing genuine Vohringer woods.
Thank You