IMPORTANT!
The prices we quote are for on-the-road UK, fully backed, prepped, and warranted product.
We do not advise using "import schemes".
All our products have all duty and vat paid correctly.
Import schemes have a list of "extras" that get added on top, ours do not.
Our vehicles are fully backed and supported with large workshops and camper conversion factories here in the UK. We are situated in 6 locations in Inkberrow, Worcestershire.
Each Bongo price includes:
* Mileage Certificate pass - very important we think.
* Authentic Japan Grading. Shown on details pages. Min starters 3.5 and 4.0.
* Authentic close up Japan photos sent to you so you can compare the "real condition" Japan to the Bongo in front of you. The "grades" are only a starting point.
The question people need too ask is: "If I cannot see photos from Japan all round the vehicles, why not? Is there something being hidden?"
Our view is simple, if you cannot see these crystal clear photos and the auction sheet then there is something being hidden.
Any true importer will show you these "true-state" Japan photos on introduction.
If not ? Why not ?
Also our prices include:
Full Cambelt change, whether needed or not. Service, filters, coolant change and system bleed. Extensive 55 point check.
Massive parts support, onward servicing and parts at special JAL prices.
Warranty (NO QUIBBLE), we do not use 3rd party insurance paper, it's all in-house, no exceptions, even switches covered.
Extensive test drive by us before vehicle pick up, To-date we have only had 4 engines fail out of thousands and 8 years selling imports approx, that's how reliable TOP LEVEL machinery can be!


199cm high - the NEW SUB 2.0m roof!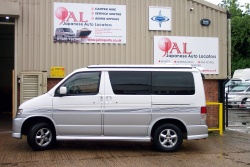 Standard Width Bed and Rear Slide Door
Can be 4 seats as standard or made to take 6 people.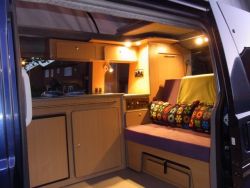 NEW 8 seat FULL CAMPER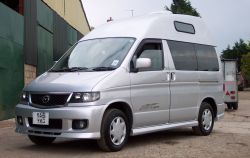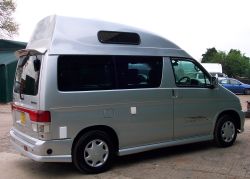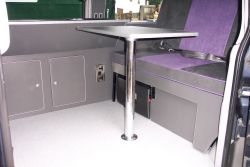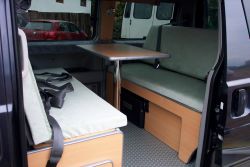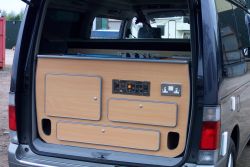 We have left some of the high quality examples below on the site so the upward trend in prices can be seen.
QUALITY Bongos have risen remarkably in price, ie the ones with the important 3 points provenance:
MILEAGE CERTIFICATE
JAPAN GRADING MARK 3.5-4
CLOSE UP JAPAN SIDE PHOTOGRAPHS
Nobody knows whether this trend will continue, but "quality" imports seem to do so
.
MUSHROOM ROOF
The MUSHROOM ROOF is now being fitted at JAL Worcester, the many advantages are:
Largest walkway available in a Bongo or Freda, significantly more than the standard roof.
Walk from front seats to rear tailgate at full head height.
Ease of operation, up and down in seconds
Better MPG
Sleeps 2 people and sometimes even a 3rd small person
Colour coded to match the Bongo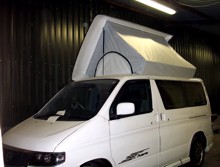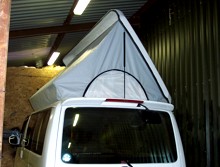 SKYLIFT ROOF
Largest interior walkway available similar to Mushroom roof and far larger than the standard factory roof.
Walk from front seats to rear at "full head height"
Ease of operation, up and down in seconds
Better MPG as lighter
Colour coded to match the Bongo
Sleeps 2 people
Higher than the factory aft roof when raised so more cubic capacity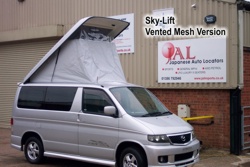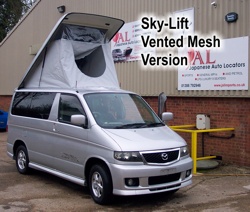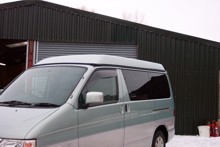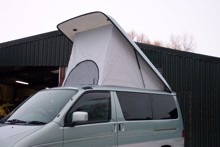 Choice of electronic and manual lift now available
NEW, NEW , NEW
Manual Lift Top Roofs - Our Bongos can be offered with the option of Manual roofs.
For better MPG, Faster operation as up in seconds, More streamlined looks, Fits into spaces where normal Bongos cannot go.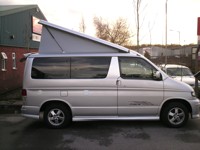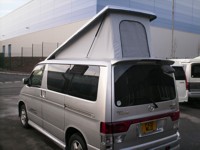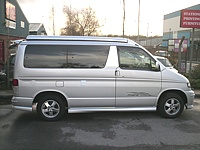 Mk1 Roof ultra slim line with sleeper compartments
NEW, NEW , NEW
HardTop Camper Roof
Large walkround capacity
Can be sleeper or extra storage space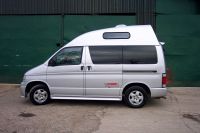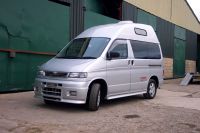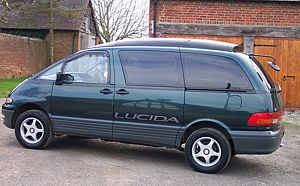 Previous Examples

*SOLD* Nissan 350z Version S 2003

*SOLD* Nissan Figaro 1000cc Turbo Auto, VERY LOW MILES

*SOLD* Toytota Lucida 1996
Japanese Auto Locators
Telephone :: 01386 792946