Mazda Bongo-RARE MANUAL, 2.5Td Campertop-1 Owner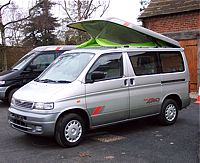 Price

£5999
Model
2.5TD-4WD
Year
1996
Spec
Auto/Manual
Very Rare Manual, only a few of these per year come out of Japan
Miles
50000
Mileage Pass
Gtd Miles with BIMTA Certification
Serv History
Yes full
Colour
Silver
Condition
Japanese Grade 3.5-4, Immaculate
Alloys
No,but we do supply alloys at a small cost
Air Con
Yes, Rear and Front
Central Locking
Yes
Sunroof
Yes
Seats
6 or 8 Seater and has Kitchen unit
Electric Mirrors
Yes
Electric Windows
Yes
Power Steering
Yes
ABS
Airbags
MOT
12 Months
Tax
Warranty
Optional
Serviced
Yes
Timing Belt
Other
Arriving
Comments
Good Bongos are in short supply and fetching a premium price.
This example is a 1 owner with genuine mileage and in the
most popular colour. On a forecourt it is worth considerably more than the price we are asking.

Our direct import Bongos are in exceptional condition and not to be confused with lesser examples. We can supply and fit full kitchen units, do all servicing and major work, provide the lowest insurance prices, a lot of our customers are being insured fully comp for as low as £180. We can supply all parts at very much lower rates, also we can obtain awnings, cycle racks and we even tint the windows at trade rates.

Deposit will secure this vehicle.
Please do give us a call as we can only put a few cars on the site, we have vehicles with even lower miles landing weekly and in a variety of colours.
On way are Silver, Wine, Black, White, Grey and Blue Bongos.
Telephone :: 01386 792946