Mazda Bongo-Only 63,000 Miles Certified, only £6250 for a Top Level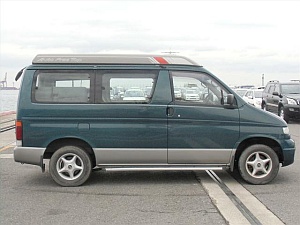 Please Email us for further photos.
Pls Note: It is very very important that you are able to see crystal clear pictures of any Bongo pre ship Japan. We have extensive photo files on all our Bongos that can be sent upon request pre order.
Price

£6250 as MPV, or £9999 as a FULL CAMPER, rare at our level for this price now
Model
2.5TD
Year
1995
Spec
2wd
Auto/Manual
Auto
Miles
Only 63,000
Mileage Pass
Gtd Miles with BIMTA Certification
Serv History
Colour
Green over Silver
Condition
Japanese Grade 3.5- 4.0 authenticated
Alloys
Air Con
Yes
Central Locking
Yes
Sunroof/Roof
Yes
Seats
8
Electric Mirrors
Electric Windows
Yes
Power Steering
Yes
ABS
Airbags
MOT
12 Months
Tax
Warranty
Yes
Serviced
Yes
Timing Belt
Will be replaced here UK
Other
Arriving
Comments

Diesels are high mileage engines so at these miles its a rarity nowadays. This stunning example will make an ideal camper base for one of our 9 inhouse conversions and include the market leading SUPER WIDE BED CONVERT.

This Bongo is very rare and very special as so hard to find now in Japan. Vehicles as good as this are many, many levels above the ones found on general forecourts in the Uk.

Ref: 7126

Telephone :: 01386 792946